Is Remembering Lyrics Difficult For You? Here are a few powerful tips.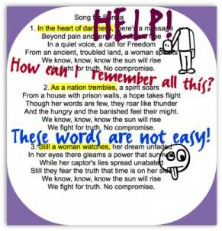 Remembering lyrics is a task that many singers worry about. Especially when there are a lot of songs to sing in an evening.

As we get older – our heads filled with the many things we have learned over the years – it can be an even greater challenge to keep hundreds of song lyrics at the tips of our  tongues.
But there are a few tricks of the trade that can really help you to work those lyrics into your mind (and body) in a way that is both enjoyable and truly memorable! You will need two or three different colored pens, pencils or highlighters & a clear print-out of your lyrics. Once you have those things in place, we can begin.
REMEMBERING LYRICS – Getting started (SEE HELPFUL VIDEO HERE!) (scroll down page)
1. Place your lyrics in front of you on your desk or table.
2. Now read through the lyrics several times, aloud.
3. As you read, notice how the song is put together. More than likely, there are several verses and choruses. You will need to be able to see clearly where these verses begin and end. Look here to see how I have printed out my lyric sheet.
If you have printed your song out in a way that the verse/chorus structure is not obvious, make some changes on your computer and print it out again. Or, if you do not have access to a printer, then write out the lyrics in long-hand. Doing this will also help you to learn the words. (To continue reading, click here: Ways to Remember Lyrics…)
—–
From Singing Tips With Barbara Lewis
Watch for Barbara's upcoming singing lesson video series called, Easy/Fun Singing – coming to the Music Learning Community & "Let's Sing!" – soon!
Take a peek at one of the videos here: EASY/FUN Lessons – Free trial!